1048Wh 3600mAh 26650 Lifepo4 Battery Energy Storage Power Supply
Product Name

1080wh Lifepo4 Battery Portable Power Station

Model NO

PS-1048Wh

Size

395*214*288mm

Weight

16kg

Capacity

3600mAh

Battery Type

Lithium iron phosphate (LifePO4)

Cycle-index

2000 times

Application

Mobile Phone,Solar Panel,Wind Power Storage,Power Tools, Home Appliances,Consumer Electronics

Feature

Fast Recharge,Multiple Output for all your devices

Energy

1048Wh

Case Material

Aluminium alloy&ABS
JHC-Tech Specialize in Battery Pack Power for Your Business.
Our Services:
We can design 12V 24V 36V 48V 100ah 200ah 300ah 400ah or other models !
Welcome customize shell,weight, size,MBS,technology,etc.
FEATURES:
1.Highest Capacity Portable Power Station.
2.Multiple Output for all your devices.
3.Fast Recharge.
Details:
Product Item: PS-1048Wh
Product Material:Aluminium alloy&ABS
Product Colour:Black & Orange
Product size:395*214*288mm
Product weight:about 16kgs
Battery Material:Lithium iron phosphate (LifePO4)
Battery Type:26650
Battery Capacity per unit:3600mAh
Battery total Capacity:1048Wh
Battery Series-parallel:7 series with 13
Battery Voltage:3.2V
Battery total voltage:22.4V
Battery Cycle Life: more than 2000 times
Recharge:DC25.5/6A by GX16
Solar Recharge:27V~50V/6A
Recharge time:8hours by DC charge
Direct-current output:
(1)2xDC:12V/7A(constant voltage)
(2)8xUSB:5V/2A
(3)2xUSB3.0:5V-9V/2A
(4)2xTYPE-C:5V-9V/2A
(5)Cigar Lighter:12V/7A(constant voltage)
Alternating current output: 4xAC(Pure sine wave output)
AC Continuous Power output:1000W
AC output voltage:110v 60HZ or 230V 50HZ
Operating Temperature:-10℃ to -40 ℃
Protection Scheme:
(1)short-circuit protection
(2)overcurrent protection
(3)overvoltage protection
(4)low-voltage protection
(5)overload protection
(6)over-temperature protection
Adapter output:25.5V/6A
Adapter:GX16
Packing:
Packing By:Carton & Foam
QTY:1PCS/CTN
Carton Size:498*325*380mm
Carton Gross Weight:About 19.5kgs
3 Ways to Charge:
1.Solar Panel Recharge (not included)
2.Wall Socket Recharge (Adapt included)
3.Generator
APPLICATION for:
1.Blender,Coffee Maker,Electric Grill and Pressure Cooker by AC output with 1000W to
1200W.
2.Drone CPAP,Go Pro and Mini Cooler by DC output with 25.5V/6A.
3.Smart Phone,Light,USB fan and Mac-book by 10 USB port with QC3.0 fast charge.
PHOTOS DISPLAY AS BELOW: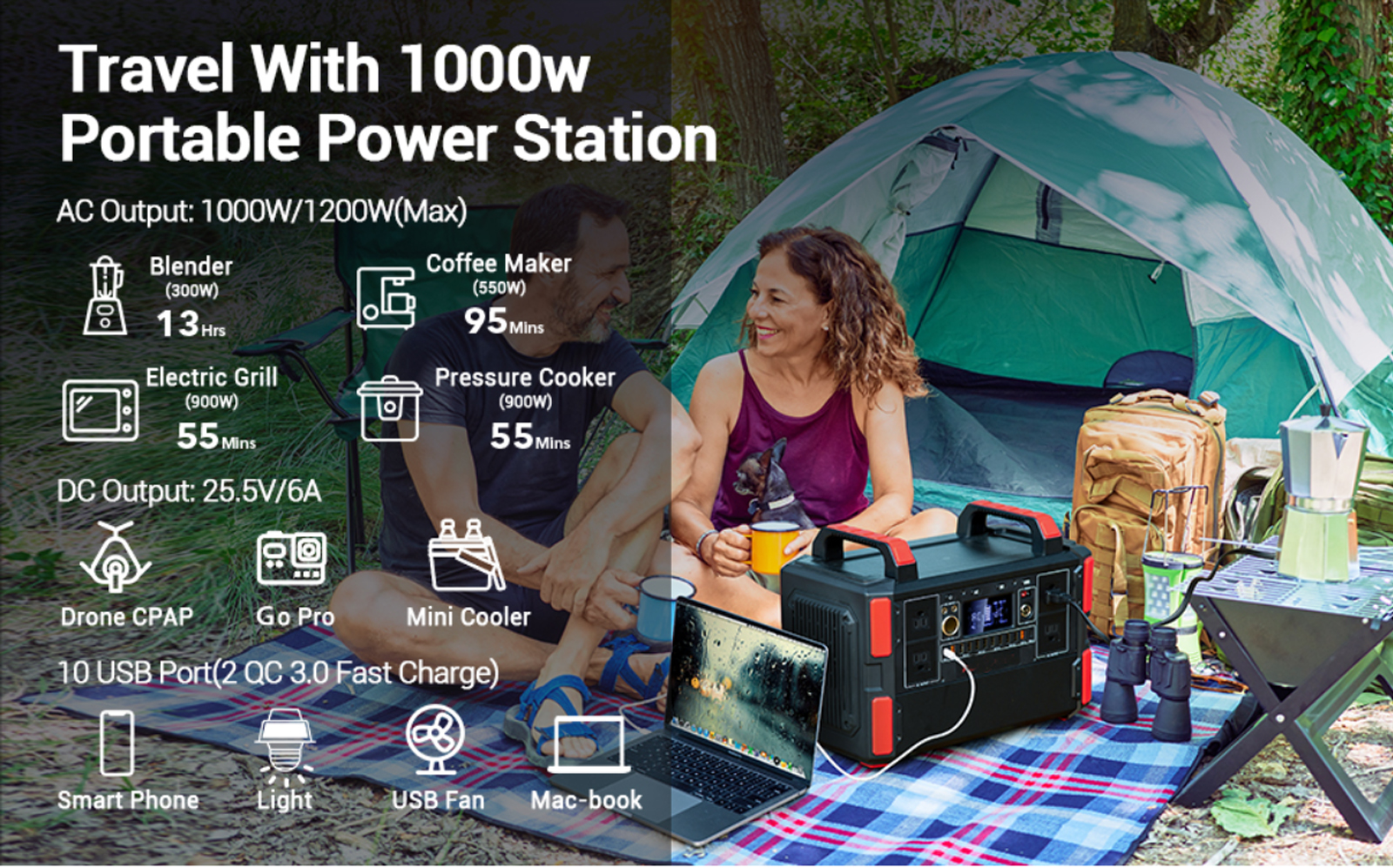 Feedback